Christmas came early for Senator Rob Portman this year. Facing a contentious re-election race, the Kochs sent one of their favorite Ohio cronies a $2,000 check in late November, bringing his career total to $10,000. And that's not the only Koch cash that Portman's been on the receiving end of — the Kochs' political front group AFP has already spent upwards of $1.4 million on ads propping up Portman.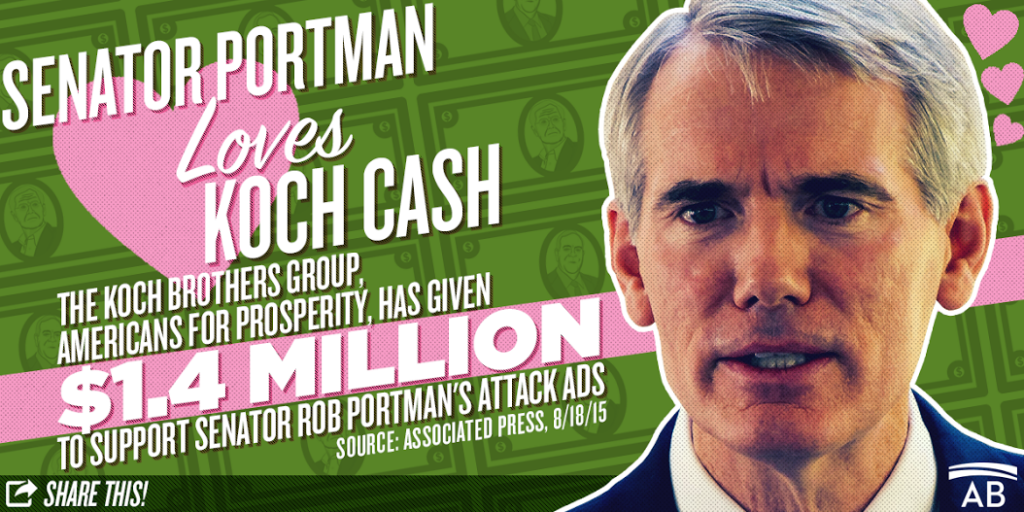 Portman's unwavering support of the Kochs' corporate agenda has helped the senator win the backing of the brothers. Earlier this year, he thanked and praised the billionaires as the keynote speaker at their Defending The American Dream Summit in Columbus, Ohio.
However, an October poll of Ohio voters show the Kochs' backing might be doing more harm than good for Portman's campaign.
The results suggest that while voters' awareness of the Koch brothers is just beginning to grow, voters who are familiar with the Koch brothers do not approve of their deceptive attacks or self-serving agenda: 36% of Ohio voters are familiar with the Koch brothers, with 3 to 1 saying they feel unfavorably toward them. Portman's reliable support for the Koch agenda in Washington will end up being a liability for him as voters learn more about the Koch brothers' agenda.
Don't expect the senator to stop accepting Koch cash, though. His record makes it clear: Rob Portman will always put the Koch brothers' bottom line ahead of Ohio's working and middle class families.