In the Senate, Pat Toomey has championed the Koch agenda at the expense of Pennsylvania, putting billionaire special interests and Wall Street ahead of Pennsylvania's middle class and working families including fighting to repeal Dodd-Frank and  opposing raising the minimum wage.

And now the Kochs are doing everything they can to ensure that Pat Toomey — and their other puppet candidates — get reelected because they can't afford to lose those who do their bidding in Washington.
Revealed today, Charles and David's political action committee cut Toomey another $2,500 check in August, bringing the grand total of Koch PAC cash that Toomey's campaign has taken to $7,500 for the cycle and $18,000 over the course of his career.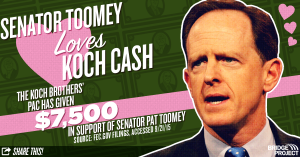 That's not the only Koch cash Pat Toomey has in his pocket. Since 2010, Toomey has received over $16,000 from the personal accounts of the Koch family.
But cash isn't the only way the Kochs are propping up Toomey. In July, the Kochs cut a $1.5 million slice of the $900 million they plan to spend on elections this cycle through their "veterans" front group, Concerned Veterans for America, to prop up Toomey.
In the Senate, no one has been a more reliable vote for the Kochs than Pat Toomey — backing their anti-middle class agenda that's bad for Pennsylvania but good for billionaires like the Kochs — and now he's being rewarded for it.