The reviews are rolling in for Charles Koch's new book and it doesn't look like many of them will end up on the walls of his corner office. Earlier this week, Bridge Project exposed how Charles Koch is using his new book to whitewash his record in business and politics and 
fact checked
 the early themes of the book. Now check out what others are saying about Charles Koch's new book and the PR campaign around it: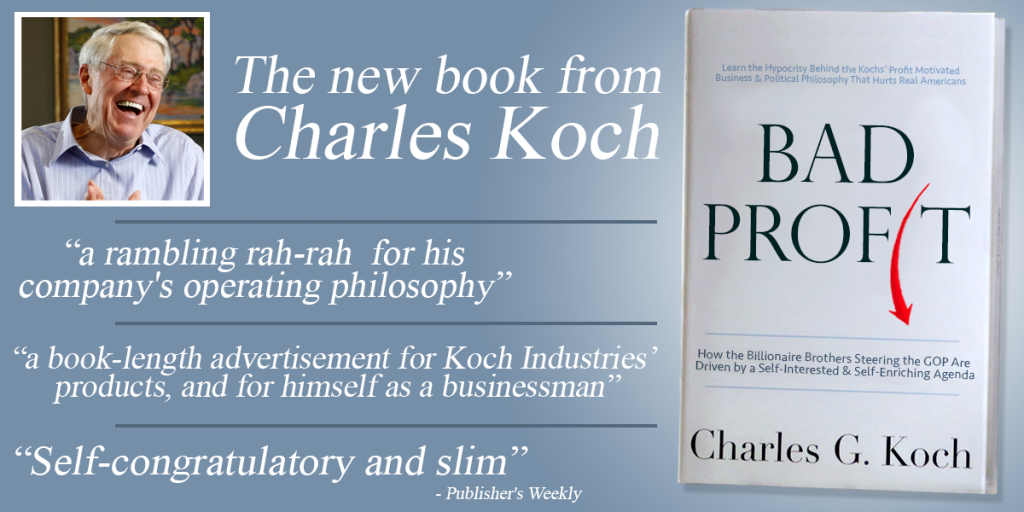 Publisher's Weekly
gave Koch's book a brutal early review calling it a "rambling rah-rah for his company's operating philosophy," "a book-length advertisement for Koch Industries' products, and for himself as a businessman," and "self-congratulatory and slim." 
Koch's hometown paper, the
Wichita Eagle
,
highlights how despite the Kochs' attempt to rebrand themselves, still little is known about what makes the Kochs tick politically and the book "reveals little about political operations" of the Koch network and their "layered and mostly secret apparatus of nonprofit and other organizations to influence elections."
The Wichita Eagle also underlines how the Kochs take government subsidies and other things they describe as "corporate welfare": 
He describes in some detail how Koch Industries has accepted government tax breaks and ethanol manufacturing subsidies, even though he and David denounce "corporate welfare."
The book review also reveals how Koch admits his company "relentlessly searches for opportunities to dismiss under-performing employees" — Koch's tactful way of saying fire people. 
And as they continue to audition for a piece of the $900 million the Koch network will spend on 2016, maybe some of the GOP presidential candidates should take note of what Charles described as a "joke among our employees in the oilfields was that 'Koch' stood for 'Keep Ol' Charlie Happy.'" As long as GOP candidates continue to push the Kochs' self-enriching agenda, they'll "Keep Ol' Charlie Happy."
TIME
 calls 
Good Profit 
"corporate propaganda"
 and "not a fantastic story by any stretch" while highlighting that the new book is a "step toward transparency that the Kochs have started to take in recent years" — otherwise known as the Kochs' PR campaign to mask their identity as out-of-touch billionaires.
The 
Financial Times
 called 
Good Profit 
a "
ragbag of reminiscence
, economics, score-settling and management theory," also noting that "readers expecting a rich man's indulgence will not be entirely disappointed."