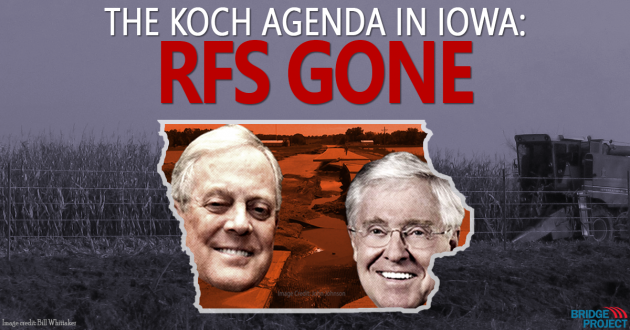 The Koch brothers' priorities couldn't be more out-of-step with Hawkeye State values. Perhaps the best example of the Kochs' self-interest is their opposition to the renewable fuel standard and biodiesel fuel standards – a boon to Iowa's economy – to protect their own oil profits. In fact, since 2006, Koch companies have lobbied on at least 37 bills in Iowa related to ethanol, biodiesel, and other renewable fuels — despite overwhelming support of biodiesel by Iowans. The Kochs aren't just hitting Iowa's farmers on renewables; Americans for Prosperity even lobbied against the Farm Bill in 2014.
Just about every issue lobbied on by the Kochs lines their pockets while hurting Iowans. For example, the Kochs, who are major formaldehyde producers, lobbied against the classification of formaldehyde as a carcinogen, and in Iowa, lobbied on a bill that would ban formaldehyde in children's toys. The Kochs fought a bill giving workers injured on the job access to better care by allowing them to see their own doctors. They also lobbied against a bill that permitted Iowans to file consumer fraud lawsuits against dishonest businesses.
The Kochs spent a great deal of money — both direct contributions and political advertisements from their advocacy groups — on elections in Iowa, hoping to get politicians who are in lock-step with their values elected to positions where they can do the Kochs' bidding. They threw their weight behind U.S. Senate candidate Joni Ernst and with her election win, the Kochs have bought a strong ally. In deference to her billionaire backers, Ernst has gone so far as to oppose the Clean Water Act, a critical environmental protection that Koch Industries and its subsidiaries have run afoul of no less than 18 times in the Hawkeye State alone.
This comprehensive research report continues Bridge Project's efforts to keep a hawkeye on their shady business practices and self-interested advocacy efforts in Iowa.