In his new book out today, Good Profit, Charles Koch sets out to deceive readers that the Koch family's prominence and wealth has been built on sound, ethical, and even patriotic principles. In reality, the Koch brothers and their business empire has been built on a foundation of what Koch describes as "bad profit."
Good Profit is just another attempt by Koch to pull the wool over the American public's eyes and hide the fact that the billionaire Koch brothers and their profit driven business and political philosophy hurts real families and working people across the country.
If you're picking up a copy of Good Profit today, you might want to think twice. Publisher's Weekly gave Koch's book a brutal early review calling it a "rambling rah-rah for his company's operating philosophy," "a book-length advertisement for Koch Industries' products, and for himself as a businessman," and "self-congratulatory and slim."
This week as the Koch PR machine ramps up around the release of Good Profit, Bridge Project is releasing a new book cover with a more accurate title and fact check of early themes revealed in Charles Koch's book tour. Stay tuned throughout the week as Bridge Project continues to highlight how Koch is using Good Profit to whitewash his record in business and politics.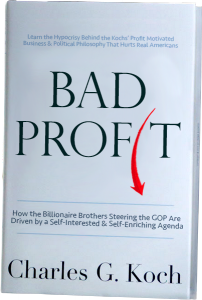 Bad Profit: Charles Koch Is Using His Book Tour To Whitewash His Record In Business And Politics
Koch Defined "Bad Profit," Accidentally Described Himself
Koch Claimed He Didn't Engage In "Bad Profit"
The Kochs Are Spending Millions On Climate Denial
The Kochs Have A Vested Interest In Fighting Climate Change Policy Because It Could Hurt Their Profits
Koch's Themselves Receive Special Treatment
Koch Industries Received At Least $157 Million In State & Federal Subsidies
Matador Cattle Grazed On Federal Lands In Montana At A Price Below Market-Value
The Koch's Business Philosophy Explains Their Political Involvement
Koch Claimed Good Business Is Driven By A High Risk-Reward Ratio
KOCH REALITY: Koch's Risk-Reward Calculation Explains Political Spending
High Risks
Expecting Rewards
Koch Claimed To Be Above Machine-Style Politics
Koch Claimed He Wasn't Going to Get Specific On Candidates To Support
Koch Reality: He's Identified And Touted Several Candidates
Koch Claimed He Didn't Have A Big Impact On The GOP
Koch Reality: The Kochs Have Driven The GOP Agenda
Charles Koch's Talking Points Are Dripping With Hypocrisy
Koch Claimed He's Against The Powerful Dictating People's Lives
Koch Reality: He Thinks He Knows What's Best For Everyone
Koch Claimed His Work On Criminal Justice Was About Undoing Wrongs
Koch Reality: He Refuses To Acknowledge The Rule Of Law
Charles Koch & Failure
Koch Quote
Koch Reality
Failed Candidates
Koch Backed Alaska Loser And Inadvertently Helped His Opponent Win